Singapore Pawnbrokers' Association (SPA) have just elected our new committee for 2017-2019 and we are hoping to expand our association by extending our invitation to non-member pawnshops in Singapore.
SPA was registered in 1920 and is one of the oldest active associations in Singapore. With a staggering 91.1 percent of pawnshops in Singapore as members, the association currently has more than 200 members comprising of traditional, modern and public-listed companies. Every member of the association, besides gaining a sense of identity and belonging, can also enjoy a host of services, facilities and activities. Below is a glimpse of our facility:
Main Lobby
Conference Room
Reception Area
Karaoke Room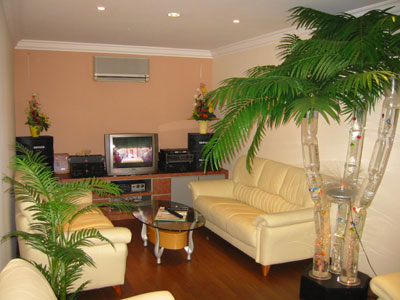 SINGAPORE PAWNBROKER'S ASSOCIATION (SPA) PROVIDES ITS MEMBERS WITH MANY UNIQUE VALUE-ADDED BENEFITS AND PRIVILEGES!
SAFEGUARDING OF INTERESTS OF MEMBERS
SPA will, from time to time or as and when necessary, liaise with The Registrar of Pawnbrokers to
discuss or to reflect the current changes in the pawnbroking environment or policies to safeguard the interests of its members.
ASSISTANCE WITH RESOLUTION OF DIFFICULTIES AND CONFLICTS
SPA attends to general public enquiries as well as mediates issues between members and customers to achieve win-win solutions for all.
POSITIVE AND TRUSTWORTHY IMAGE PROJECTION OF THE PAWNBROKING INDUSTRY
SPA, through media interviews, helps to project a positive image of the industry. Positive media reports strengthen the confidence and trust of customers.
FREE ACCESS TO SPA'S WEBSITE
Members' information will be uploaded free of charge to SPA's website. Members will also have timely access to information from SPA, Registry of Pawnbrokers and the Singapore Police Force.
FREE USAGE OF SPA'S FACILITIES
Members can apply to use the Association's main hall, conference room, karaoke room and other facilities free of charge.
ACCESS TO INFORMATION FROM PAWNBROKERS IN OTHER COUNTRIES
SPA actively seeks to make contact with fellow foreign industry players. So far, relationships have been established with pawn-broking associations from America, China, Taiwan and Cambodia. There have been meaningful visits as well as exchange of information and ideas with the associations of these countries. Information collected will be shared with all SPA members.
OPPORTUNITY TO PARTICIPATE IN SEMINARS, CONFERENCES AND WORKSHOPS
SPA will organize seminars and workshops that are in line with the latest government policies or relevant to the daily operational needs of the business. Previous seminars include topics such as Lemon Law, GMS tax structure, latest Gold testing equipment, Fire-fighting equipment and fire prevention. The events aim to upgrade the professional knowledge and technical skills of the members. The members are also entitled to purchase the recommended equipments at special rates.
OPPORTUNITY TO PARTICIPATE IN MANAGEMENT TRAINING AND SKILL DEVELOPMENT
As SPA is an association member of the Singapore Chinese Chamber of Commerce & Industry (SCCCI), SPA members are entitled to enrol in the various courses conducted by SCCCI. Some of these courses focus on upgrading employees' skills or improving business operations.
OPPORTUNITY TO PARTICIPATE IN THE ANNUAL LUNAR NEW YEAR DINNER PARTY
Every year SPA will organize a grand Lunar New Year dinner party to provide members an opportunity to interact with the Council Members and fellow Pawnbrokers in a social setting. This helps to promote cordial relationships among all members.
SUPPLY OF PRINTED INFORMATION AND MATERIALS
Members will be given free printed information and materials such as members' list, notices, diaries,calendars, red packets and other items.
What are you waiting for! Submit your application and JOIN US right away!
For more information, visit our website @ www.singpawn.org or call our office at 67491200